Beginning in July, qualifying individuals will automatically begin receiving Advanced Child Tax Credit payments for their qualifying dependents.
If you would rather receive the Child Tax Credit as a one time credit on your 2021 return instead of monthly payments, you will need to take action and complete the unenrollment process. The IRS has opened a portal allowing qualifying taxpayers to unenroll from receiving the Advance Child Tax Credit for the 2021 tax year.
Is there a deadline to unenroll?
Yes, you must complete the unenrollment process at least 3 days before the first Thursday of the next month. The enrollment process takes approximately 7 calendar days and is a one-time action; you do not need to unenroll each month. Check back with the IRS to ensure your request has been processed successfully.
If you miss the deadline, you will receive the advance payment as scheduled. The IRS will process the request to unenroll for the next payment. Once unenrolled, the IRS has no option to re-enroll for the 2021 tax year.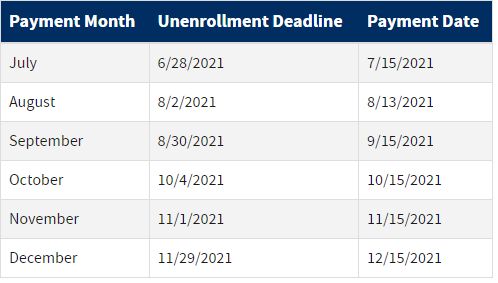 Who needs to complete the unenrollment process?
If you are married filing jointly, both you and your spouse will need to unenroll. If only one spouse unenrolls, the payment will be split in half and the person that did not unenroll will receive one half of the Advanced Child Tax Credit monthly payment.