Estimated taxes are used to pay tax on income that is not subject to withholding. This could be income from being self-employed, interest, dividends, alimony, rent, capital gains, prizes and awards. Estimated taxes may also need to be paid if the tax being withheld from your income is not enough.
A taxpayer will have to make quarterly estimated tax payments for the current year if both of the following apply:
You are expected to owe at least $1,000 after all withholdings and credits have been subtracted.
You expect your withholdings and credits to be less than the smaller of:

90% of the tax on the current return or
100% of the tax shown on your prior year return.
If your return this year results in an amount due, you may want to consider either:
Having your employer withhold more taxes from your pay check each pay period; OR
Making quarterly estimated payments to the IRS throughout the year.
How much do I need to pay each quarter?
To determine how much you should pay each quarter, complete the following worksheet or visit the IRS website for 1040ES instructions. Enter the quarterly amounts in the program to print payment vouchers for the current tax year. Please note that this form is NOT available within the program. It will have to be filled out manually.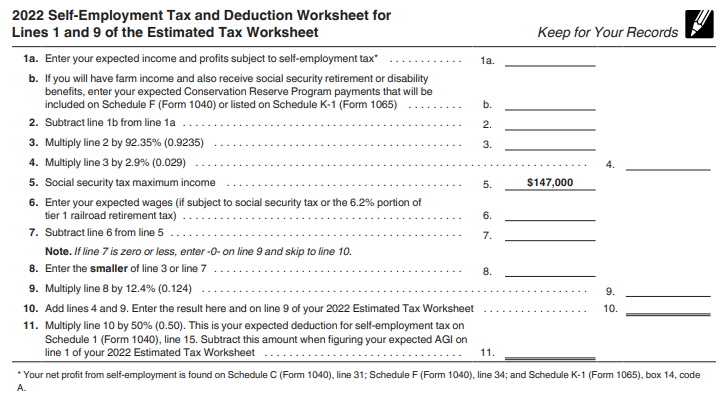 Can I print payment vouchers in the program?
If you already make estimated payments throughout the tax year, or plan on doing so in the upcoming tax year, you can easily prepare your payment vouchers for mailing within your account.
To prepare the estimated payment vouchers in your account after manually completing Form 1040-ES, select:
Federal Section
Payments and Estimates
Vouchers for Next Year's Estimated Payments
Enter the amounts that you expect to pay for each quarter (April 15th, June 15th, September 15th, and January 15th).
When you print a copy of your return, the payment voucher(s) will print for each expected estimated payment that was entered. You may track information such as: the date the payment was sent and the check number and amount of the payment.
Will my payments by automatically debited?
Entering amounts in the section for Vouchers for Next Year's Estimated Payments will not set up your payments to be electronically debited by the IRS. Entering this information will allow the program to populate the payment vouchers to print for mailing. You would need to mail in your estimated payments throughout the year.